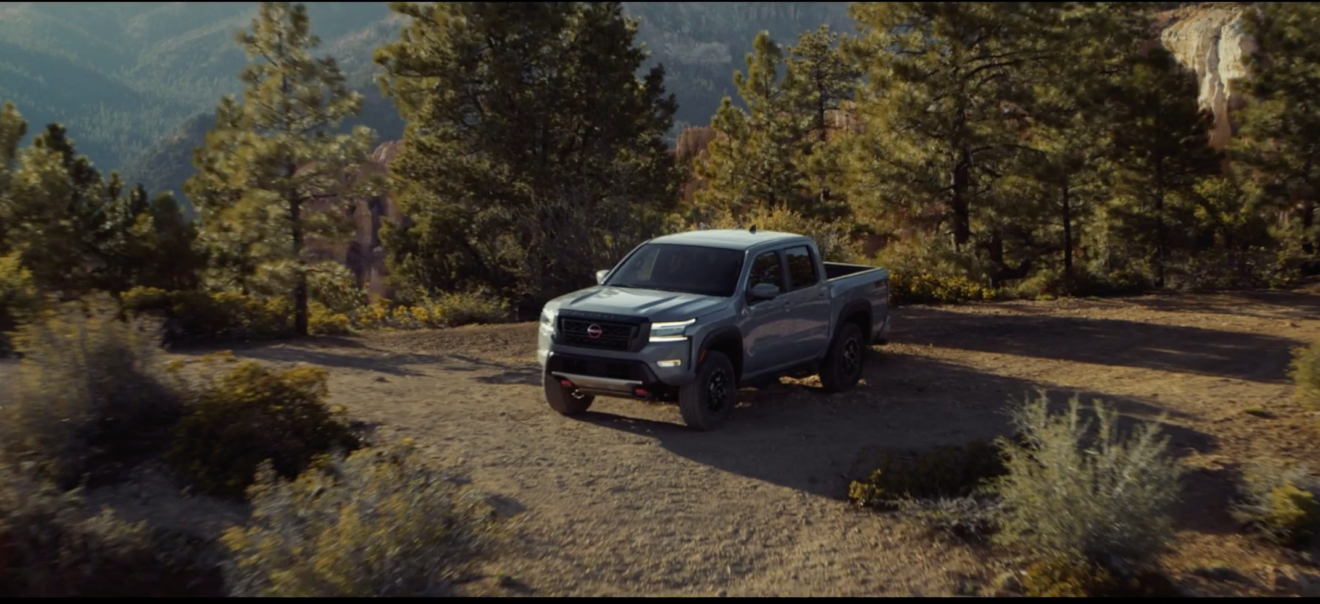 Actress Brie Larson takes Frontier off-roading in campaign launch spot
Campaign pays homage to Frontier heritage while showcasing pickup's total redesign
Digital ads go live October 1, TV ads start airing on TV October 4
With best-in-class horsepower1, shift-on-the-fly 4WD and a 9-inch color touchscreen with standard Apple CarPlay® and Android Auto™, the all-new Frontier's versatility is unmatched
NASHVILLE, Tenn. – The all-new 2022 Nissan Frontier debuts with a campaign created to highlight the total redesign of this iconic mid-sized pickup. With the theme line "Find Your Frontier," TV and digital ads will pay homage to Frontier's storied heritage while also providing an up-close look at the pickup's current evolution. Nissan brand ambassador and Academy Award-winning actress, Brie Larson, stars in the launch spot, which begins airing October 4.
"This campaign is all about showing off," said Allyson Witherspoon, Nissan vice president and U.S. chief marketing officer. "Everything from the Frontier's muscular exterior to its huge touch screen and its intelligent four-wheel drive demands a closer look. The campaign provides a close-up."
With best-in-class horsepower, shift-on-the-fly 4WD and a 9-inch color touchscreen with standard Apple CarPlay® and Android Auto™, the all-new Frontier is the most versatile pickup on the market, ready for a workweek in the city or a weekend off-road. The new campaign takes every opportunity to demonstrate this.
In the first TV spot to air, Larson demonstrates that adventure starts where the road ends as she navigates the Frontier through steep mountain roads with ease. Larson likens the truck to the hero in a Hollywood story who faces a seemingly impossible challenge, tension at every turn, plot twists aplenty, and yet still prevails. While this would be the end of a typical Holloywood story, it's where the Frontier's story is just beginning.
"Brie is a great fit for showcasing the Frontier's versatility," Witherspoon said. "She connects with many different audiences and has been an amazing brand ambassador for Nissan."
Another of the campaign's spots is a nod to the pickup's iconic heritage. The ad opens with a shot of the 1986 Nissan Frontier on the open road when the all-new 2022 Frontier pulls up alongside it. Past meets present as viewers are reminded of the truck that invented the hard body and the truck that has now reinvented it.
"Frontier was the first midsized pickup on the market when it debuted in 1959," Witherspoon said. "It paved the way for an entire segment. It was important to us that the campaign acknowledge that."
In addition to TV, the campaign features innovative digital and and social media components targeted to conquest audiences in the market for a midsize truck.
For more information about our products, services and commitment to sustainable mobility, visit nissanusa.com. You can also follow us on Facebook, Instagram, Twitter and LinkedIn and see all our latest videos on YouTube.
Source: Nissan
The All New 2022 Nissan Frontier Makes Debut
Rod is a blogger, writer, filmmaker, photographer, daydreamer who likes to cook. Rod produces and directs the web series, CUPIC: Diary of an Investigator. He is also the editor, producer and administrator of STM Daily News, a part of the TNC Network.