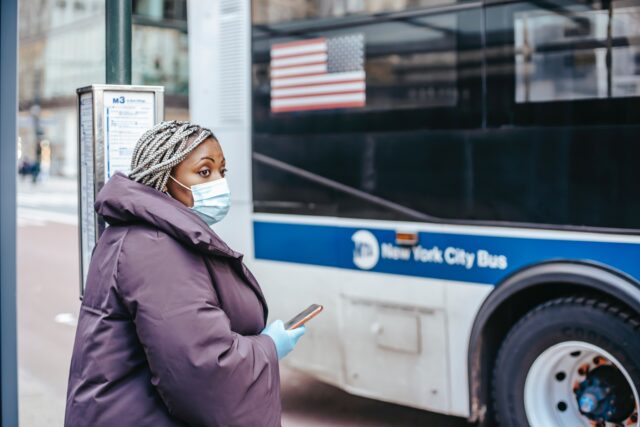 Some Areas Seeing More Than 80 Percent of Pre-Pandemic Ridership
WASHINGTON – The U.S. Department of Transportation's Federal Transit Administration (FTA) announced today that transit ridership is rebounding in communities across the nation. Thanks to the Biden-Harris Administration's actions to tackle the pandemic, more Americans are on the move. As Americans are going to work, shopping and visiting friends and loved ones they are returning to transit. In some communities, transit ridership is up more than 80 percent over early 2020 levels, according to the FTA.
"That's why FTA is facilitating a national conversation about ways transit agencies are attracting riders and growing new ridership," said FTA Administrator Nuria Fernandez. "FTA's America's Open and Transit's Open initiative is engaging our transit partners through listening sessions and a National Transit Renewal Summit to share best practices and work together to renew ridership across America."
Oklahoma City saw 81 percent of riders on its EMBARK bus system compared with May 2019 levels.
"EMBARK's response over the last year is grounded in our values of safety and service," said EMBARK Administrator Jason Ferbrache, adding that recent surveys revealed close to 80 percent of riders felt safe and were satisfied with their bus service. "Oklahoma City and EMBARK's resilience is a reflection of our commitment to keep residents moving."
Richmond, Va. also saw 80 percent of May 2019 riders on their Greater Richmond Transit Company (GRTC).
"During COVID, GRTC developed a laser focus to protect our employees' health and jobs, realign our resources to critical transit connections for our region's essential workforce, and protect the physical and economic health and well-being of our staff and riders," said GRTC Chief Executive Officer Julie Timm. "We are committed to making transit service better and more equitable for our core bus riders who make up the essential workforce, reducing barriers to access and increasing system comfort and reliability."
Miami-Dade County, Fla., reached 68 percent of its May 2019 ridership. Miami-Dade is primarily served by Miami-Dade County's Department of Transportation and Public Works (DTPW) heavy rail, light rail, and buses. DTPW added 120 buses last year as it re-evaluated its ridership and system design, reducing wait times to just five minutes on many routes.
Transportation
"Public transportation agencies across the country cut service at the beginning of the safer-at-home order, and Miami-Dade Transit was no exception," said Carlos Cruz-Casas, DTPW Assistant Director. "But unlike many agencies, soon after, we restored transit service to pre-pandemic levels on most routes – and even added service to go above what we provided before the pandemic."
Finally, ridership on Kansas City Area Transportation Authority in Kansas City, Mo. rebounded to 69 percent.
"We're not going to run away from the people who need us most, we're going to run toward them," said Robbie Makinen, KCATA president & CEO, who said that the agency's zero-fare program has been very popular. "By focusing on social equity and the four pillars of public transit – jobs, education, healthcare and housing – RideKC is able to maximize our ridership."
The American Rescue Plan and other pandemic relief grants has provided critical funding to transit agencies nationwide, including covering expenses for cleaning and other measures to improve safety. In addition, many agencies have eliminated fares to improve safety for transit drivers and passengers, including KCATA and GRTA, who credit zero-fare initiatives with boosting ridership.
FTA will facilitate a national conversation throughout the summer to help transit agencies across America rebuild and enhance ridership through listening sessions and amplifying best practices from transit agencies that are gaining riders through social media.
Source: FTA
Rod Washington Writer, filmmaker, model railroader, dreamer, posting videos and articles about trains. Also, posting railfanning videos and updates about his own model railroad layout via his webpage, the rail project (coming soon).