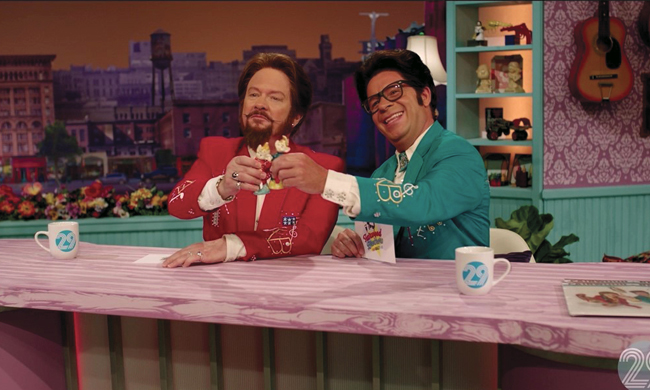 (Family Features) For many entertainment seekers, using streaming media to conveniently binge favorite shows and movies at home is already a part of their viewing experience. However, exploring additional on-demand video providers can open viewers' eyes to unique original content.
For example, Crackle, a Chicken Soup for The Soul Entertainment streaming service, has debuted all six episodes of comedy series "Fairwood" exclusively on the platform in the United States. The free-to-use video entertainment network is available through more than 60 touch points, including smart TVs, gaming consoles and iOS and Android mobile devices, and features full-length movies, TV shows and original programming.
Created by award-winning recording artists Steve Richard and Tim Mauldin, plus Bud Schaetzle – the creative mind behind televised events starring Celine Dion, Wyclef Jean, Wynonna Judd, Dolly Parton and Garth Brooks – the quirky, single-camera series follows the exploits of colorful small-town entertainers Rusty and Clark Fairwood, who are thrust unexpectedly into the limelight as hosts of a talk show on Channel 29 in their rustic hometown of East Plains. The Brothers unite their relatives, friends and neighbors against the Pentalode Corporation, whose carpetbagging executives work to overrun the town and take control of its unexploited natural resources.
Richard and Mauldin introduced the happy-go-lucky characters in 2012 on their faith-based rock album, "Contrary to Popular Belief." With a funny, charming and moral worldview, the Fairwood brothers were created to represent the power of the underdog and to highlight through music and storytelling the value of community, family and the Golden Rule.
"We're thrilled to finally bring the world of 'Fairwood' to Crackle viewers," Schaetzle said. "Rusty and Clark's comedic sensibility, coupled with their long-standing musical collaboration that led here, deliver an authentic and uplifting story of an underdog community going head-to-head with big business."

The series also stars Grammy winner and Grand Ole Opry member Pam Tillis ("Nashville," "Promised Land"), Broadway and primetime vet Robert Stoeckle ("The Americans," "Law and Order"), Karen Sternberg ("I Only Miss You When I'm Breathing"), Jonothon Mitchell ("Hillbilly Elegy"), Tamiko Robinson Steele ("Smoketown"), William McKinney ("Journey to Royal"), Tatiana Zappardino ("NCIS: New Orleans"), Dean Shortland ("Dolly Parton's Heartstrings"), Cali Elizabeth Moore ("30 Rock"), Rolando Madrigal ("Your Worst Nightmare") and Becky Fly ("The Help").
Learn more and start streaming today at Crackle.com.


SOURCE:
Crackle TV
Rebecca Jo is a mother of four and is a creative soul from Phoenix, Arizona, who also enjoys new adventures. Rebecca Jo has a passion for the outdoors and indulges in activities like camping, fishing, hunting and riding rollercoasters.