Aug. 23, 2017 /PRNewswire/ — Hanergy Thin Film Power Group Limited (HKSE Stock Code: 566) today announced that its wholly-owned US subsidiary Alta Devices has signed with AUDI AG a Memorandum of Understanding on Strategic Cooperation in Thin Film Solar Cell Technology. Two parties will jointly undertake the "Audi/Hanergy Thin Film Solar Cell Research and Development project".
As the first step, Audi and Hanergy will introduce the solution of integrating thin-film solar cells in the panoramic roof of Audi models. It is aimed to prolong the endurance mileage by feeding solar energy into the internal vehicle electrical system – including air conditioning and other electrical appliances. In the long term, by leveraging the technologies from both sides, the two parties plan to gradually transition to utilize thin film solar technology to feed solar energy into the drivetrain battery to provide additional primary power for vehicles. The project will not only contribute to Audi's clear vision of emission-free mobility, but also advance the application of thin-film solar technology for global primary energy generation. The two sides plan to jointly present an Audi vehicle prototype featuring an integrated prototype solar roof solution by the end of 2017.
Audi takes the target of zero emissions seriously. That's why besides innovative fuels, electric drive systems are essential for future automobiles at Audi. By 2020, the product range will include three attractively designed and efficient battery-electric cars. By 2025, Audi intends to deliver one third of its cars with fully electric drivetrains to customers.
Based on this strategic setting, renewable energy – especially solar energy with the characteristics of mobile energy – has become very attractive for Audi to achieve sustainable mobility. Since light vehicle bodies and limited vehicle roof areas require solar cells with a high power-to-weight ratio. Gallium Arsenide (GaAs), a high-efficient, thin, flexible and lightweight thin film solar technology has therefore stood out as the primary option for Audi's panorama sunroof solution.
Chairman Yuan Yabin of Hanergy Thin Film Power Group Limited remarked at the signing ceremony, "The cooperation with AUDI AG is an important milestone in the application of Hanergy's mobile energy technology in the automotive sector. Hanergy Thin Film Power Group Limited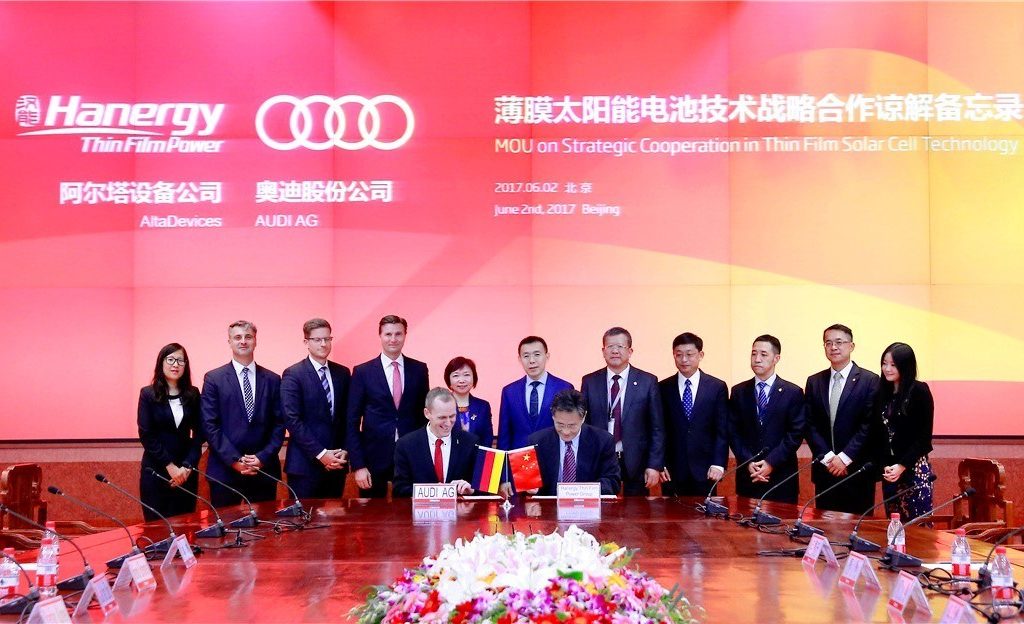 is the world's leading thin film solar energy company committed to providing its partners with the best mobile energy products and solutions. Its wholly-owned US subsidiary Alta Devices possesses the most efficient flexible GaAs thin film solar technology which can provide the best clean power solutions to automakers. As the automotive industry is striving for green mobility, I believe that the cooperation between the two sides will convey the message of green development to the world through the efforts from the traditional and emerging industries, while revealing the confidence and action from both sides in protecting the environment."
Dr. Ding Jian, senior Vice President of Hanergy Thin Film Power Group Limited, CEO of Alta Devices, Inc. and co-leader of the Audi/Hanergy Thin Film Solar Cell Research and Development Project, said: "This partnership with Audi is Alta Devices' first cooperation with a high-end auto brand. By combining Alta's continuing breakthroughs in solar technology and Audi's drive toward a sustainable mobility of the future, we will shape the solar car of the future."
"The range of electric cars plays a decisive role for our customers. Together with Hanergy, we plan to install innovative solar technology in our electric cars that will extend their range and is also sustainable," stated Audi Board of Management Member for Procurement Dr. Bernd Martens. At a later stage, solar energy could directly charge the traction battery of Audi electric vehicles. "That would be a milestone along the way to achieving sustainable, emission-free mobility," continued Martens.
Alta Devices, Inc. of Hanergy Thin Film Power Group is a world leading manufacturer of GaAs thin film cell devices and a supplier of mobile energy application products. It has the world's thinnest, lightest, flexible GaAs thin film solar technology with the highest conversion efficiency. This form factor makes for easy integration into curved glass automotive roofs, and provides the most power possible in every type of lighting. This technology can lead to a green revolution for the automotive industry. By charging on-board battery using solar energy, it can extend the driving range and create a comfortable all-weather interior environment for vehicles. Alta Devices' high-efficient flexible GaAs thin film solar technology can be applied to automobiles, small UAVs, High-altitude and long endurance UAVs, consumer electronics products, IoT devices, wearable devices and other high value-added products.
Dr. Ding Jian, Senior Vice President of Hanergy Thin Film Power Group Limited & CEO of Alta Devices, Inc., Stefan Kuhne, Exteriors Procurement Department Director of Audi signed the MoU at Hanergy's headquarter in Beijing. Yuan Yabin, Chairman of Hanergy Thin Film Power Group Limited, Li Ming, Vice President & President for Europe of Hanergy Thin Film Power Group Limited, Zhou Xuelian, Procurement Director of Audi China, and Tomas Link, Body Design Director of Audi China attended the signing ceremony.
SOURCE Hanergy Thin Film Power Group Limited
CONTACT: Wang Danning, +86 10 83914567 ext. 3118, +86-13671129766, [email protected]
Joshua, a native Phoenician, lives in the west Valley with his wife and two sons. He has a BA in Management and 24 years of experience in Information Technology. He's passionate in his career of combining healthcare and IT to help doctors provide the best possible healthcare to their patients. Joshua also has multiple publications for IT education, which are used in universities around the world. He is a true Arizona liberal, supporting both human rights, equality for all.