Hyundai continues to show support for the LGBTQ community as the presenting partner of the 30th Annual GLAAD Media Awards, an event that recognizes and honors media for their fair, accurate and inclusive representations of the lesbian, gay, bisexual, transgender and queer (LGBTQ) community and the issues that affect their lives. Hyundai is also the sponsor of the GLAAD Media Awards After Party that culminates the evening's festivities. The partnership includes a wide range of activations where attendees will have the opportunity to experience the Hyundai brand and the newest models at the event on March 28 in Beverly Hills, CA.
"At Hyundai, we place a high value on inclusion and diversity and the positive impact it has on our business and we are proud to be a presenting partner of this year's GLAAD Awards," said Dean Evans, CMO, Hyundai Motor America. "Hyundai stands together with the LGTBQ community to drive equality and acceptance for all."
During the event, two Hyundai Kona's and pride-themed Hyundai Tucson will be on display with product specialists engaging with attendees. At the after party, Hyundai will have a lounge area, serve complimentary coffee beverages from LGBTQ coffee company Equator Coffees & Teas, have a pride-themed Hyundai on display, provide a photo opportunity with onsite printing into co-branded GLAAD/Hyundai frames, and raffle off a Hyundai Kona. Hyundai will have branding throughout the event and at the after party, logo inclusion on various marketing assets including the invitations and the red carpet step and repeat, and social media mentions across GLAAD social channels. The GLAAD Media Awards activations are managed by Advantage.
Hyundai has proudly received a score of 100 percent in the Human Rights Campaign Foundation's Corporate Equality Index for providing a positive and inclusive work environment for LGBTQ employees and supports a Hyundai employee resource group, "Drive: Equality", that advances innovative ideas to drive awareness of the Hyundai brand within the LGBTQ community.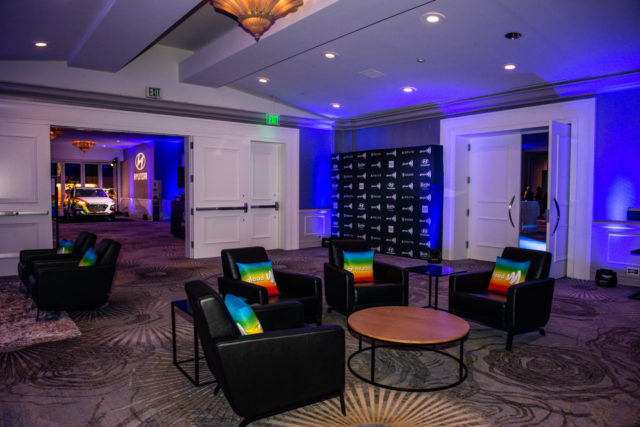 Hyundai Motor America
Hyundai Motor America is focused on delivering an outstanding customer experience grounded in design leadership, engineering excellence and exceptional value in every vehicle we sell. Hyundai's technology-rich product lineup of cars, SUVs and alternative-powered electric and fuel cell vehicles is backed by Hyundai Assurance—our promise to deliver peace of mind to our customers. Hyundai vehicles are sold and serviced through more than 830 dealerships nationwide and the majority sold in the U.S. are built at U.S. manufacturing facilities, including Hyundai Motor Manufacturing Alabama. Hyundai Motor America is headquartered in Fountain Valley, California, and is a subsidiary of Hyundai Motor Company of Korea.
Please visit our media website at www.HyundaiNews.com
Hyundai Motor America on Twitter | YouTube | Facebook | Instagram
Joshua, a native Phoenician, lives in the west Valley with his wife and two sons. He has a BA in Management and 24 years of experience in Information Technology. He's passionate in his career of combining healthcare and IT to help doctors provide the best possible healthcare to their patients. Joshua also has multiple publications for IT education, which are used in universities around the world. He is a true Arizona liberal, supporting both human rights, equality for all.