Extension aims to help last minute bands submit their content for Epocylipse: The AfterFall…
March 15, 2017 – "The Harbringers live on stage, with opening act, YOU!" Razor Edge Games is happy to announce that our original promotion deadline for band submissions has been extended! Part of a band that's looking to get your content in a game? Razor Edge Games wants to feature you! Interested bands now have until April 30th to submit their content for an opportunity to have their band's music in our premiere title, Epocylipse: The AfterFall…
In Epocylipse: The Afterfall… with the small pockets of civilization left, music is used to bring back some semblance of the old world. Your band's music can be used on the radios in settlements, be featured on posters and even possibly have a video seen in bars around the settlements in the game! Please note: if selected, the amount of band content that will be incorporated into our game is dependant on the amount of promotion that Razor Edge Games receives from you.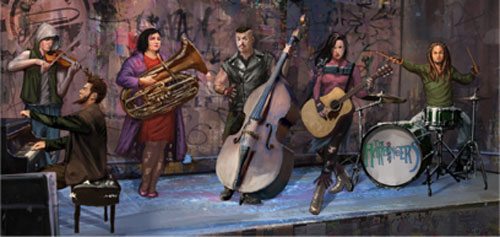 Interested bands can fill out the required form at www.razoredgegames.com/auditions/. When sending in a submission, Razor Edge Games requires a band's contact info, the
genre of music, and a compressed file demo track. The demo track must be in WAV or MP3 format, be under 20MB in size, and be a minimum of one minute in length so that the team can get a genuine feel for your music. When submissions close on April 30th, the Music team will begin reaching out to selected candidates with more information. We at Razor Edge Games hope to hear from you and have you as our opening act soon!
Interested in learning more about Epocylipse: The AfterFall…? Players can receive news and updates by joining the official Epocylipse forums at http://www.razoredgegames.com/forum, and on Facebook at https://www.facebook.com/Epocylipseafterfall/. Player feedback will shape the game as it evolves, so fans are encouraged to follow and interact with Epocylipse.
Bay Area boy living in the desert. You'll usually find him playing some type of Blizzard game or tinkering with some electronic device in his house.