This 1st Place Award Is Accompanied By A $1000 Cash Prize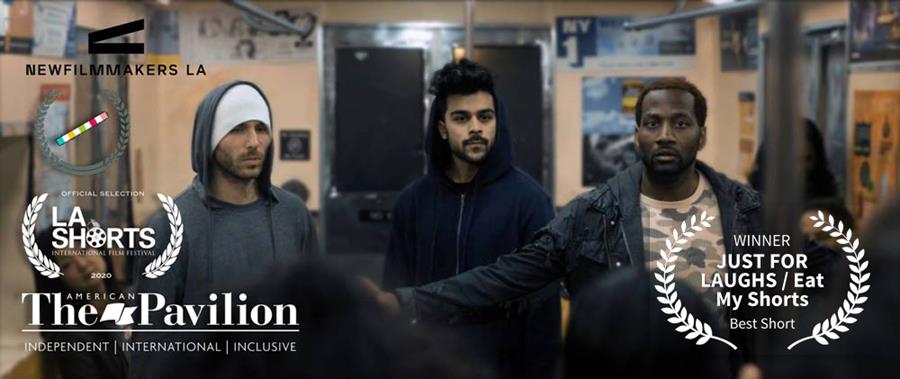 (Los Angeles, CA) – October 12, 2020. When stand-up comedian Alonzo Bodden announced that the First Place of the Just For Laughs / Eat My Shorts competition was awarded to TRIBES, director Nino Aldi couldn't believe it. Just For Laughs is the largest international comedy festival in the world and the film was up against the best shorts of the year. 
"I'm beyond thrilled to see audiences have had such a positive response to the message of our film: despite all our many differences in society, we are all a part of the same 'Tribe'  and, ultimately, true unity is realized through diversity," said Nino Aldi. "I'm so extremely grateful to win this award," he added.
WATCH ALONZO BODDEN'S ANNOUNCEMENT:
https://www.facebook.com/patriciachica/videos/10158647777540140
Tribes depicts a timely story about three guys of different ethnicities: an African American, an Arab-American and a white man attempting to rob a subway train. A series of humorous situations are triggered when none of the three bandits want to rob the people of their own race. Self-identity is truly a bitch – a concealed premise perfectly fits under Nino Aldi's camera, revealing our current social environment.
It has been a busy week for Aldi's socially relevant comedy since the highly curated LA Shorts Fest made the film available on YouTube as part as their Oscar qualification competition. The film reached 10,000 views in just 24 hours and has now surpassed the 27,000 mark in less than a week, a significantly higher number than any other short in the same category. If TRIBES wins the Best of Fest award at LA Shorts, it becomes eligible for an Oscar submission.
Starring Internet celebrities Destorm Power (Punk'd), Adam Waheed (Pitch Please) and Daytime Emmy-winning producer/actor Jake Hunter (Class Act), the funny film continues its festival tour at the following events:
NewFilmmakers Los Angeles
October 17th, powered by @Seed&Spark!
Program #3: Shorts Program – Dark Recesses
6:30 PM – 7:45 PM – Suggested Screening Time
8:00 PM – 9:00 PM – Audience Q&A
LINK: www.newfilmmakersla.com/events/event/october-17th-2020-monthly-film-festival-infocus-veteran-cinema/
Short Of The Week Selection
Online release the week of November 16th, 2020 on the highly curated short film platform www.ShortOfTheWeek.com.
Cannes' AmPav Emerging Filmmaker Showcase
Due to the COVID-19 pandemic, the 2020 Finalist Films will be screened at the 74th Festival in Cannes in 2021. In the meantime, the AmPav will virtually showcase Tribes for a limited time. First, virtually on January 16th and 17th 2021, followed by a Q&A on Zoom on Sunday January 17 at 3pm PST. Then physically, as planned, in May 2021, in Cannes, France.
LINK: www.ampav.com/student-programs/cannes-emerging-filmmaker-showcase/2020-finalists-emerging-filmmaker-showcase/
And many more festivals to come!
The 11-min short film is written by Andy Marlatt and produced by the three lead actors in collaboration with multidisciplinary filmmaker Jeion Green and award-winning Canadian producer Patricia Chica. The executive producers are Jordan Taylor Wright of Taylor Cut Films and Will Meldman of Double Down Pictures.
Just For Laughs
For more information about Tribes, please visit the following links:
Facebook: www.facebook.com/TribesTheMovie
Instagram: www.Instagram.com/TribesTheMovie
IMDb: www.imdb.com/title/tt9883024/
Hashtag: #TribesTheMovie
Rod is a blogger, writer, filmmaker, photographer, daydreamer who likes to cook. Rod produces and directs the web series, CUPIC: Diary of an Investigator. He is also the editor, producer and administrator of STM Daily News, a part of the TNC Network.