TEMPE, AZ – As the Halloween season creeps in with fall approaching, the team behind Tempe's long running Cult Classics AZ monthly film revival series is launching an all-new festival event to ring in the most haunted of all holidays.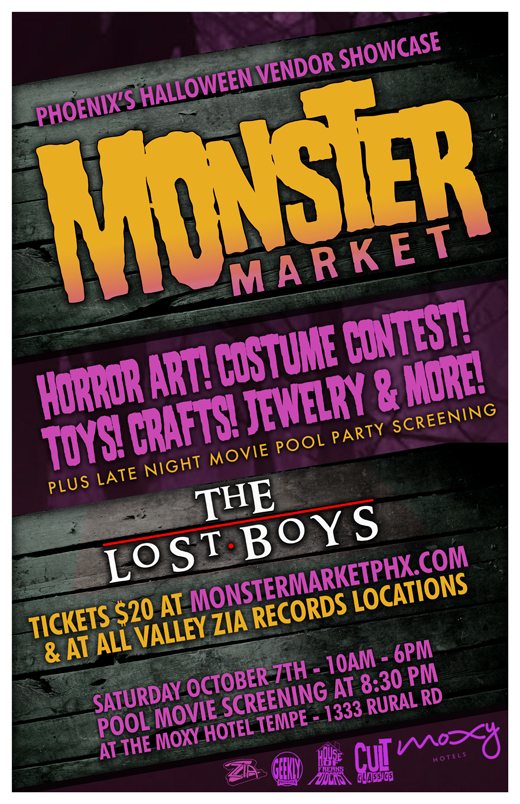 That event is MONSTER MARKET PHOENIX, taking place on Saturday, October 7th, 2017 at the boutique hotel MOXY in Tempe, AZ, promises to be an event to remember for the dedicated Halloween and scary happenings enthusiast. MONSTER MARKET will feature twenty curated local artists and vendors specializing in Halloween and spooky themed goods, crafts, and artwork in a dedicated vendor space open from 10 AM to 6 PM. While attendees can shop from a juried marketplace of Halloween and horror themed decor, jewelry, clothing and more, there will simultaneously also be workshops happening throughout the day where local creatives will share tips, recipes and crafts on how to make their Halloween season a more personal and unique experience. Workshops on everything from telling ghost stories, to how to make the perfect Halloween party cocktail and on the haunted history of Phoenix highlight MONSTER MARKET'S programming slate. There will also be appearances and photo opportunities with costume groups like the Phoenix Ghostbusters, culminating with a costume contest with prizes from local and national businesses ranging from collectibles to horror DVDs and more from Zia Records ( 
http://www.ziarecords.com
 ). Fans will also have a chance to test their horror film knowledge against that of Cult Following, recognized as one of Phoenix's New Times' BestPodcasts in Phoenix and hosts of Cult Following Film Trivia at Valley Bar in Phoenix.
Finally, attendees can wind down their night at 8:30 PM with a night time poolside dive-in screening of the 1987 classic teen vampire film THE LOST BOYS, presented by Cult Classics ( 
http://www.cultclassicsaz.com
 ) as part of their monthly "Dive-In" film residency at The Moxy Tempe.
MONSTER MARKET involves many prominent local culture creators in the Valley of the Sun. Local alternative and geeky events calendar Geekly Phoenix ( 
http://www.facebook.com/groups/geeklyphoenix
 ) is helping curate local talent for the event, while local paranormal podcast 'The House of Freaks' will be recording a live podcast at the event on the otherwordly and ghostly. Zia Records will also be at MONSTER MARKET, with a curated selection of classic horror soundtracks on vinyl as well as selling tickets to the event at all five of their Valley store locations.
Plus, The Moxy Tempe also has a special discounted room rate block for attendees attending the event so you can enjoy the festivies and then enjoy a good night's sleep in one of the Moxy's lush and comfortable hotel rooms.
"Everyone involved in Monster Market has a deep love and affection for Halloween and scary and spooky things," states Festival founder Victor Moreno. "We felt there was a vacuum here in Phoenix present for a unique curated event centered around vendors and artisans; especially those who draw inspiration from scary movies, vintage Halloween, ghosts, vampires and that sort of imagery in their work, Monster Market is designed to spotlight the unique local creatives and companies actively engaging with that imagery here and help turn our attendees onto their visions and creations and to have them take some inspiration to make some cool stuff themselves this Halloween season."
Tickets to MONSTER MARKET are available at the website 
MonsterMarketPHX.com
 and at all Valley Zia Records locations. There are multiple ticket packages available, allowing attendees to group their purchase with an event shirt and show posters, as well as raffle tickets to win prizes from some of our vendors and sponsors.
—
For any press/interview and photo requests, feel free to contact Victor Moreno at 
[email protected]
 or at 310-218-8076. Press credentials also available and as more event information at 
MonsterMarketPHX.com
________________________________
Rod is a blogger, writer, filmmaker, photographer, daydreamer who likes to cook. Rod produces and directs the web series, CUPIC: Diary of an Investigator. He is also the editor, producer and administrator of STM Daily News, a part of the TNC Network.