Hollywood, Calif. – Netflix and Dr. Seuss Enterprises today announced they will bring some of the most iconic and beloved stories and characters of Dr. Seuss to life with five new animated preschool series and specials. The projects are inspired by treasured stories like Horton Hears a Who!; The Sneetches; One Fish, Two Fish, Red Fish, Blue Fish; and Wacky Wednesday, in addition to lovable characters like Thidwick the Big-Hearted Moose. Executive Producer Dustin Ferrer (Esme & Roy, Shimmer & Shine, Daniel Tiger's Neighborhood) will serve as showrunner across all five, and additional showrunners will be revealed in the coming weeks.  The announcement expands the partnership between Netflix and Dr. Seuss Enterprises even further, following the launch of the critically acclaimed animated series Green Eggs and Ham in 2019, which will have its anticipated second season premiere April 8, 2022.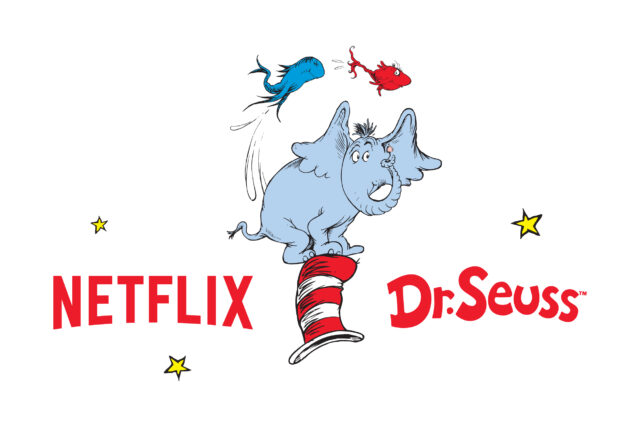 The new Dr. Seuss line-up will serve as a true anchor for Netflix's expanded focus on pre-school. Introducing concepts of foundational learning, this new slate of programming will explore themes of diversity and respect for others all told through fun and engaging stories that incorporate the whimsical humor, distinctive visuals and rhythmic style of Dr. Seuss.
"Netflix is a trusted home for characters kids love, and generations of kids love the characters imagined by Dr. Seuss. These beloved stories have been a core part of families' libraries for many years and it gives me great pride that we are bringing them to our catalog of Netflix shows, in a fresh and modern way that resonates with audiences today," said Heather Tilert, Director of Preschool Content, Netflix.
Susan Brandt, President and CEO of Dr. Seuss Enterprises, added, "Dr. Seuss Enterprises is proud of the collaborative relationship we share with Netflix. We are always looking for new and engaging ways to share our stories, characters and messages with the next generation of fans, and Netflix has a unique ability to create original, delightful adaptations of our timeless classics with an emphasis on imagination, fun, and education. Our partnership has been very prosperous thus far with our award-winning animated series Green Eggs and Ham. We hope to continue that success with our upcoming projects."
The greenlit projects include the following books:
One Fish, Two Fish, Red Fish, Blue Fish
The Sneetches
Wacky Wednesday
Horton Hears a Who!
Thidwick The Big-Hearted Moose
About Dr. Seuss Enterprises
Dr. Seuss Enterprises is a leading global children's entertainment company focused on promoting literacy, education, self-confidence, and the wonderful possibilities of a child's imagination through the works of Dr. Seuss. The company was established in 1993 and is based in San Diego, California. Global endeavors include publishing, film, TV, stage productions, exhibitions, digital media, licensed merchandise, and other strategic partnerships. For more information about Dr. Seuss Enterprises, visit Seussville.com, or follow on Instagram.
Source: Netflix
Rod is a blogger, writer, filmmaker, photographer, daydreamer who likes to cook. Rod produces and directs the web series, CUPIC: Diary of an Investigator. He is also the editor, producer and administrator of STM Daily News, a part of the TNC Network.