Co-Hosted by L.A. Comic Con CEO Keith Tralins and Meltdown's Adam Parker
"A Conversation With…" Features Several of Today's Most Celebrated Names In Pop Culture Live and Direct From Meltdown Comics In Hollywood
This Month's Los Angeles Comic Con Presents "A Conversation With…" Streams Live Wednesday May 24 at 7:30pm PDT
LOS ANGELES (May 22, 2017) – Stan Lee's Los Angeles Comic Con Presents A Conversation With…has set Javier Grillo-Marxuach – the Emmy-winning creator of The Middleman, and writer-producer of The 100, Charmed, Medium and the legendary ABC series Lost – for its next live streaming showcase, set for Wednesday May 24 beginning at 7:30pm PDT. Co-hosted by L.A. Comic Con CEO Keith Tralins and Meltdown's Adam Parker, the monthly program originates live from Meltdown Comics, Hollywood's premiere destination for everything pop culture.
A casual m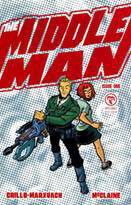 aster class on creating best-of-breed pop culture entertainment, A Conversation With… can be accessed via Meltdown's website located at www.meltcomics.com. For those who happen to be in the So California area, the monthly event is also open to the public free of charge.
Javier Grillo-Marxuach is a prolific writer of television, movies, comic books, essays, and interactive media best known as one of the Emmy Award-winning producers of Lost, and as creator of the the comic book and ABC Family television series The Middleman. Having just wrapped work as consulting producer on season 2 of the hit MTV series The Shannara Chronicles, Javi is currently developing projects for both broadcast and cable, as well as feature film. Javier is also co-host and co-creator (with fellow writer/producer/Puerto Rican, Jose Molina) of the "Children of Tendu" podcast, an educational series which aims to teach newcomers how to navigate the entertainment industry with decency and integrity. As part of his ongoing efforts to support and encourage emerging writers, Javi is not only an avid participant of the WGA's Mentor program, but also worked to institute the Grillo-Marxuach Family Scholarship, which provides financial aid and mentorship to students attending the University of Southern California School of Cinematic Arts Masters Degree in Screenwriting with a focus on the Latino experience. Additionally, Javi's book of essays "Shoot This One" – a dishy, frequently far-too-revealing, but mostly helpful and informative, memoir of his 20 years in the television industry – is currently available in paperback and Kindle.
"We are excited to team with Meltdown Comics for our monthly video streaming series A Conversation With…to present the extremely gifted – and very funny – Javier Grillo-Marxuach, a creative powerhouse whose work is fast becoming legend," said Tralins.
About Stan Lee's Los Angeles Comic Con:
Stan Lee's Los Angeles Comic Con is Los Angeles' biggest and best large-scale, multi-media pop culture convention. Held annually Halloween weekend at the Los Angeles Convention Center, Stan Lee's L.A. Comic Con assembles the most exciting and innovative in comics, video games, sci-fi, fantasy, horror and all things pop-culture. Partnering with comic legend Stan Lee himself and Elvira, Mistress of the Dark, Stan Lee's Los Angeles Comic Con is the only pop-culture convention owned and operated by true pop-culture icons. With a mission to provide celebrity, creator and talent access that is unequalled in comic conventions, Stan Lee's L.A. Comic Con's unique panels, autograph sessions and photo-ops give fans once-in-a-lifetime opportunities to truly interact with their favorite creators and major players in the entertainment industry. Stan Lee's Los Angeles Comic Con is a partnership of Stan Lee's Pow! Entertainment, Cassandra Peterson, and Comikaze Entertainment, Inc. Visit http://www.stanleeslacomiccon.com/. This year's Stan Lee's Los Angeles Comic Con will be October 27-29, 2017.
About Meltdown Comics:
Established in 1993, Meltdown Comics serves as the mecca for all things comic book, comedy, podcasting, and pop culture related. Located in the heart of Hollywood on Sunset Boulevard, Meltdown is the recipient of accolades from such leading trendsetters "Best of LA: LA Weekly, "Best of LA: LA Magazine, "Best Comedy: LA Weekly, "Top 50 things why LA kicks ass: LA Weekly, "Best Store: Playboy Magazine and "Top 10 stores you must visit before you die." Visit Meltdown at www.meltcomics.com.
Bay Area boy living in the desert. You'll usually find him playing some type of Blizzard game or tinkering with some electronic device in his house.