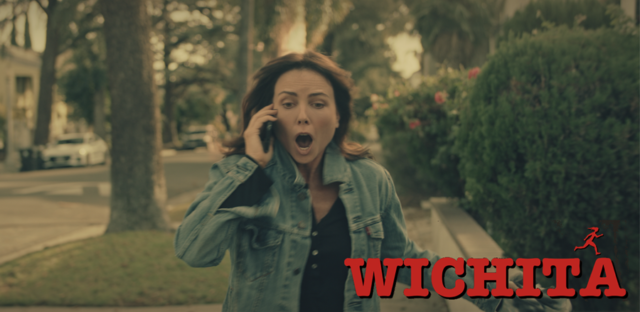 Los Angeles, CA) – September 15, 2020. LA SHORTS International Film Festival, Los Angeles' top Academy qualifying short film festival, has just selected Wichita for its World Premiere. The five- minute heart-racing mini comedic thriller by creative duo Sergine Dumais (director) and Bo Price(writer/producer) sheds light on modern infidelity, with a twist. The festival will exceptionally run online this year fromOctober 2nd thru October 31st, 2020on www.LAShortsFest.com.
The quirky short stars Maxim Roy(Shadowhunters, October Faction) and Jeremy Sisto (FBI, Six Feet Under).

Wichita (Trailer): https://vimeo.com/400344886
Wichita tells the story of a modern woman, Sara, who receives an unexpected request from her husband while in the arms of her lover. Sara only has a few minutes to race home before she gets busted. To stall for time, Sara asks endless questions about Wichita, KS. What's Cowtown like? And Kirstie Alley's house? What about Pizza Hut? Didn't that start there too? In this crazy and humorous race-against-the-clock, we see how fast a woman will run to save her marriage.
"Wichita is a story about betrayal," director Sergine Dumais says. "And the agony of fighting for love – especially if you are fighting for love in all the 'wrong' ways," she adds.
The film's premise was inspired by writer Bo Price's childhood in Wichita, KS. "When I was a kid, Pizza Hut was king, Barry Sanders won the Heisman, and Kirstie Alley landed 'Cheers'. I wanted to lionize these Local Landmarks," he recalls.
Sergine Dumais added a French-Canadian flavor. She hails from Montreal, and began her career performing in and directing Quebec musical theater before moving to Los Angeles to direct the French language dubs of over 20 Hollywood features.
For Wichita, her first short film, Dumais landed her dream cast of Jeremy Sisto and fellow Quebecer Maxim Roy. She describes Sisto's talent as "out of this world" and Roy's as "a force of nature".
The film also has a Québécois look and sound. Dumais recruited Montreal-based Serge Desrosiers as cinematographer, and for music she chose a cult-classic by Quebec's Jean Leloup.
For more information about Wichita, please visit the following links:
Official Website (Film): www.WichitaFilm.com
Official Website (Director): www.SergineDumais.com 
Official Website (Writer/Producer): www.BoPrice.com
Hashtag: #WichitaFilm #LAShorts
Rod is a blogger, writer, filmmaker, photographer, daydreamer who likes to cook. Rod produces and directs the web series, CUPIC: Diary of an Investigator. He is also the editor, producer and administrator of STM Daily News, a part of the TNC Network.